J. S. Wooley Adirondack Photographer
Event date:
Friday, November 9, 2018 - 7:00pm
Event address:
Saratoga Springs
,
NY
12866
Please note the new date! This event was originally scheduled for Saturday, July 28 at 7 pm, and is now confirmed for November 9 at 7 pm.
Co-authors Richard Timberlake, Philip Terrie, Caroline Welsh, Jamie Young, and Matt Finley will present an illustrated lecture on the life and work of J. S. Wooley.
In 1880, Jesse Sumner Wooley, an energetic and entrepreneurial thirteen-year-old farm boy from Saratoga County, took a job as an errand boy for a pair of town photographers. This summer job led to a career that would define Wooley's life. From that early start, Wooley went on to become a prominent businessman and inventive photographer in Upstate New York. This book tells the fascinating story of Wooley's rise from his impoverished rural roots to a position of success and prosperity as an artist who illuminated twentieth-century bourgeois American culture through his photography.
Wooley's photographs present a fascinating historical and artistic record of our region at the end of the nineteenth century.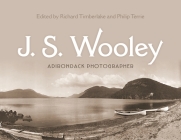 $49.95
ISBN: 9780815610960
Availability: Click Title for IN STOCK Location
Published: Syracuse University Press - October 29th, 2018
---